Media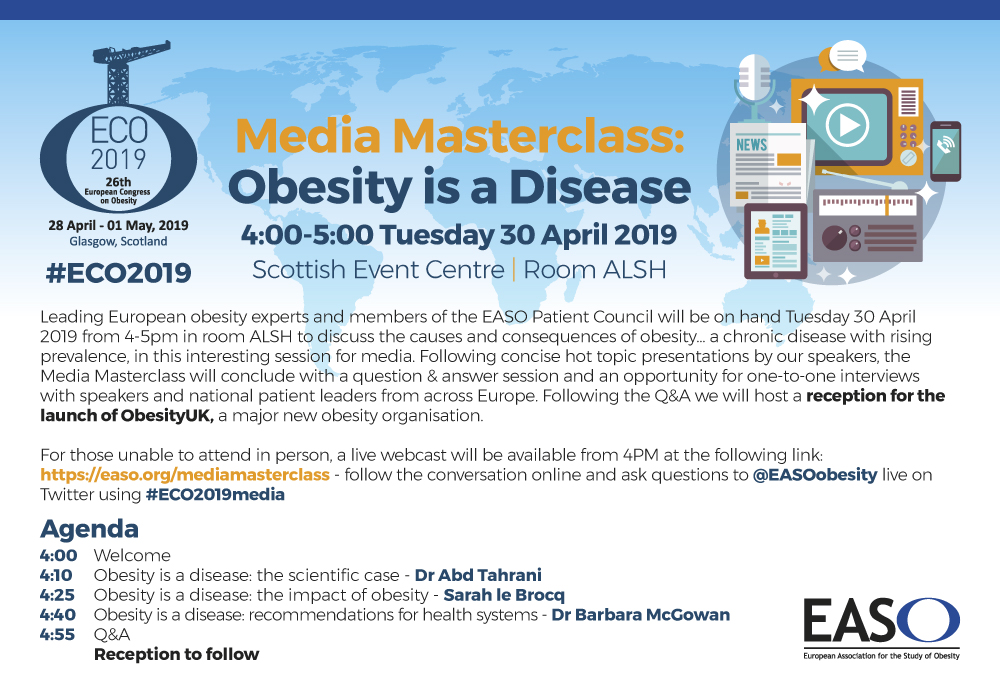 The year's European Congress on Obesity (ECO2019) in the beautiful city of Glasgow, Scotland, will feature the latest research, clinical approaches and perspectives on obesity from a wide range of fields. Issues covered will include:
Childhood obesity
New aspects on metabolic control
Novel drugs
Household food insecurity
Behavioural and lifestyle interventions
Environmental pollutants
Lifecourse epidemiology
Food and diet patterns
Behaviour change
Weight loss versus weight maintenance
Experts from around the world will present abstracts and deliver symposia on these themes.
There will be a series of press conferences to showcase the items most of interest to the media, and press releases issued throughout the summit. A staffed media centre will be available on site to help journalists with their queries and interview requests.
Bona fide journalists may register for free at this year's European Congress on Obesity.
To request a media registration, please email [email protected] , providing evidence that you are a journalist with links to your work where possible.
Embargoed press releases will be issued covering each of the four days of the congress:
Sunday 28 April, Monday 29 April, Tuesday 30 April, Wednesday 01 May
Further information will be released in the days leading up to the summit.

In addition, there will be a Media Masterclass on obesity reporting for journalists at this year's congress. Details of this will be confirmed in due course.